Update 4/9: the Prius is sold!
I'm selling my Toyota Prius 2005 – it has served me well, but I am buying a new car next month and I don't need to own two.  This car is awesome and I have a few pictures and descriptions of some of its features below - 

Check out a slideshow of this Prius at http://prius.ehuna.org/slideshow
I have additional pictures outlining specific features below
Here are some quick facts on this car -
This Prius is in excellent condition
It has server me without any issues for 131,031 miles
I am the original owner and this car was never involved in any accident.
I have its maintenance history – including every Toyota suggested service - and oil change and brakes/suspension inspections every 5,000 miles at the Toyota dealer.
Exterior: White Color
Interior: High-Quality Leather (Black)
It includes California HOV Stickers, which allow you to drive alone in the diamond lane!
I installed the XM Satellite Radio add-on, integrated with the GPS unit.
It has the Toyota 'High-End' package: GPS, Bluetooth, Premium Sound, Remote Keyless entry, HomeLink garage door opener.
I upgraded all 4 tires to premium-grade, high-traction, 'Michelin Pro' tires
The registration is paid until March 2012.
I just purchased a new 12V battery.
The EPA Fuel Economy is - City: 48 MPG, Highway: 45 MPG
I have a lot more information below, if you're interested here's the asking price and my contact info -
The price: $10,500 (or best offer)
My name is Emmanuel Huna
Email me at s…@ehuna.org or call me at (650) 918-7486
Check out this great site http://john1701a.com/ for information on the Toyota Prius in general.  Below I have additional pictures and details on this car.
Selling my Toyota Prius 2005
Here's the standard technical info you get from car web sites -
Body Style: Sedan
Exterior Color: White
Engine: 4 cylinder, hybrid, 1.5 liter
Transmission: Automatic
Doors: 5
Body style: hatchback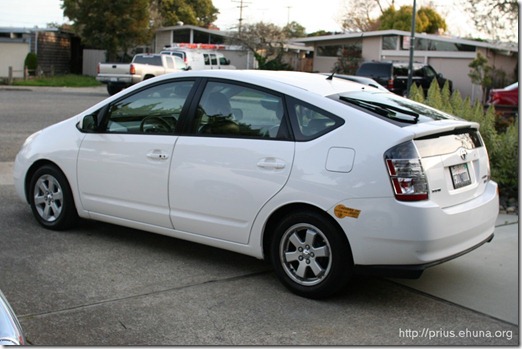 Here's a longer list with more features (don't stop here, there are cool pictures after the list) -
GPS/Navigation System with voice activation
Bluetooth integration with phones
Large center LCD screen
Remote Keyless Entry: key fob (all doors)
A/C: Automatic air conditioning with air filter
Steering-wheel mounted A/C controls
6-disc in-dash CD player
AM/FM stereo with seek-scan
Premium Sound: 9 JBL speakers
Cruise Control with steering wheel controls
Garage door transmitter: HomeLink (pair it with your garage door for easy entry)
Power Locks
Power Steering
Airbags: Driver, Passenger, and Side
Anti-Lock Brakes
Tilt Wheel
Fog Lights
Cassette Radio
Power Windows
Rear Window Defroster
Rear Window Wiper
Tinted Glass
Day-night rearview mirror
Illuminated driver and passenger-side visor mirrors
Enhanced regenerative braking
Can run up to 3.6 miles on battery alone
Illuminated entry
Illuminated glove box
Driver and passenger door bins
Partial floor console with covered box
2 12V DC power outlets
Front and rear cup holders
Here are some pictures with explanations -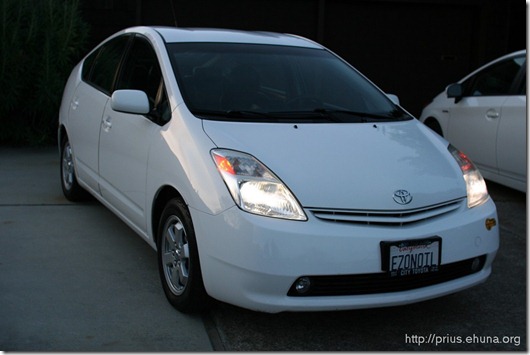 The keyfob is all you need to lock and unlock the car – put it in your pocket or your purse -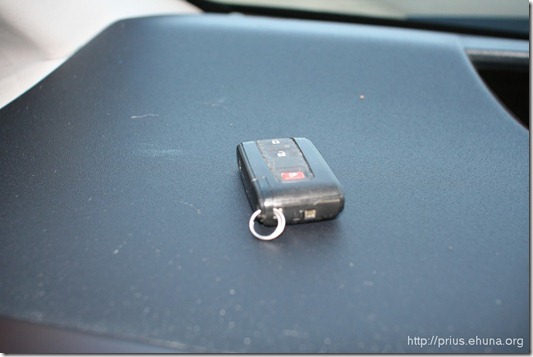 Once you have the keyfob in your pocket, all you need to disarm the alarm and enter the car is get close to the Prius and place your hand on the handle. 
The keyfob sends a signal to the Prius computer which unlocks the car!  (this is one of my wife's favorite Prius features) -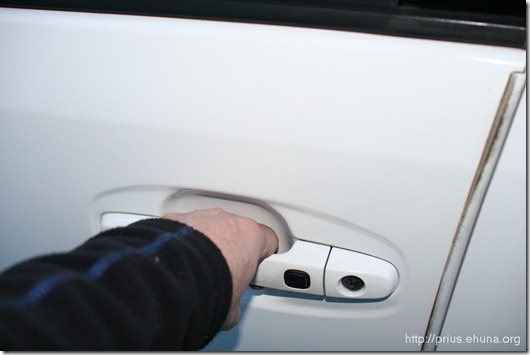 To start the car, it's the same idea – no need to look for keys.  As long as you have the keyfob in your pocket, just press the 'Power' button behind the steering wheel while keeping your foot on the brake to start the car!  (keyfob shown here for reference) -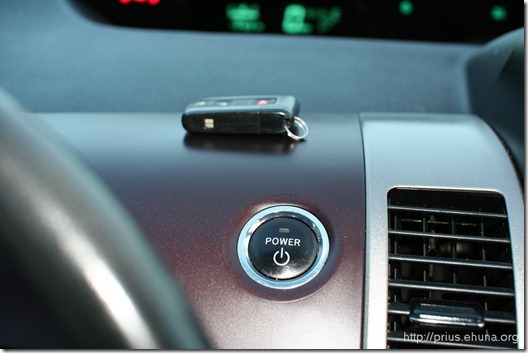 The steering wheel has buttons that allow you to directly control certain features -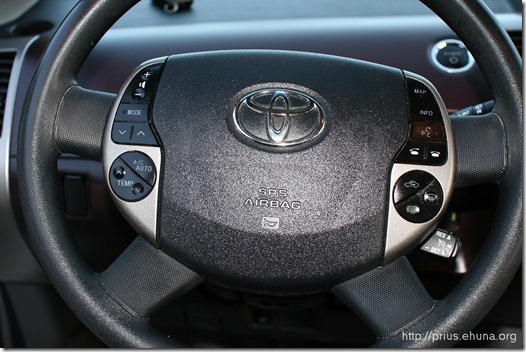 The left side of the steering wheel has buttons for controlling the volume, the mode (AM/FM/XM Radio/Aux), changing radio stations, and controlling the A/C, including lowering or increasing the temperature -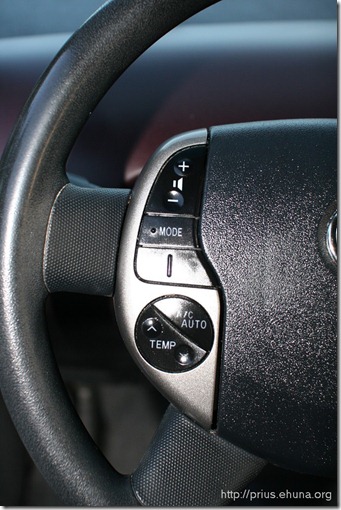 The right side of the steering wheel has buttons that allow you to go back to the GPS map view, show 'info' on your gas consumption, the voice activation trigger, the ability to answer (or hang-up) a phone call, and more A/C controlling features -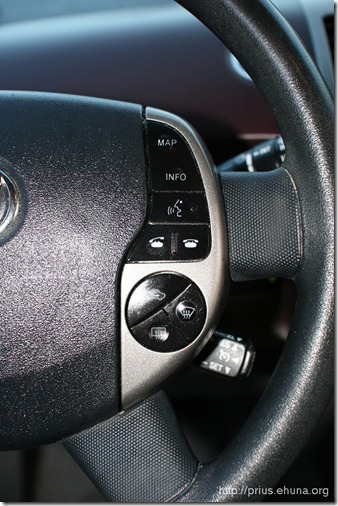 I upgraded all four tires to these premium-grade, high-traction, Michelin HydroEdge tires that can be used on a Iconic Prius.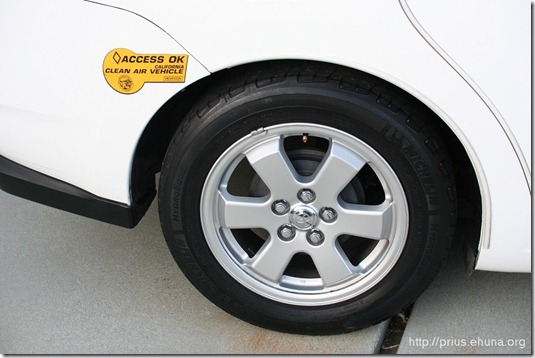 These tires are way better than the factory default tires Toyota provides.  Here's a side-by-side comparison -
Original Tire: Goodyear Integrity
Upgrade Tire: Michelin HydroEdge
The Prius comes with these tires standard.  They are sometimes referred to as OEM (Original Equipment Manufacturer) tires.



185 / 65 R15
44 PSI (3.0 bar) maximum
1168 lbs. (530 kg) load maximum
Standard Rolling Resistance
855 Revs per mile
10/32 inch Tread-Depth
86S Speed & Load Rating
"A" Traction
"B" Temperature
460 Treadwear
50,000 (80,467 km) Mile Warranty

These are the premium-grade, high-traction, tires you would own if you purchased this Prius -




185 / 65 R15
44 PSI (3.0 bar) maximum
1168 lbs. (530 kg) load maximum
Standard Rolling Resistance
856 Revs per mile
11/32 inch Tread-Depth
86T Speed & Load Rating
"A" Traction
"B" Temperature
800 Treadwear
90,000 (144,841km) Mile Warranty
Right above the tires you see the HOV stickers – like the one below.  This sticker allows you to drive alone in the diamond lanes in all Bay Area and California highways (you will need to get a 'FastTrak' - http://www.bayareafastrak.org/)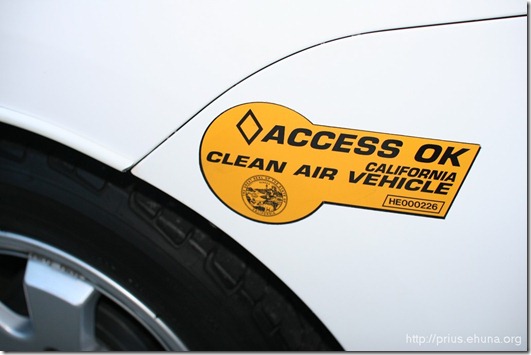 Here are the two engines in this Prius – a standard engine and an electrical motor -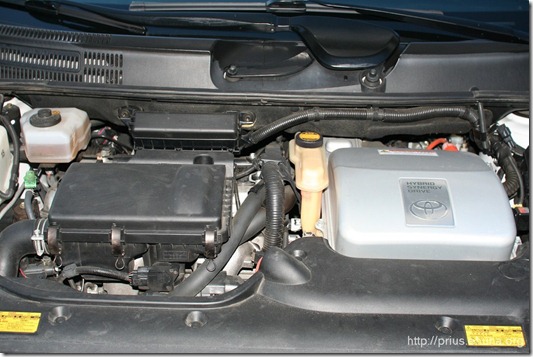 The LCD display in the car gives you feedback on your consumption – including a current 'miles per gallon' (MPG) indicator – (not many cars give you this information, most car manufacturers don't really want you to know) -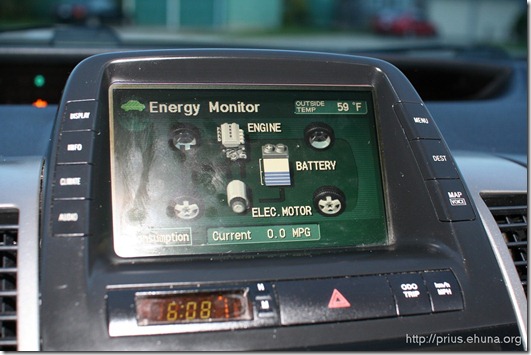 The Prius includes a fairly large trunk area -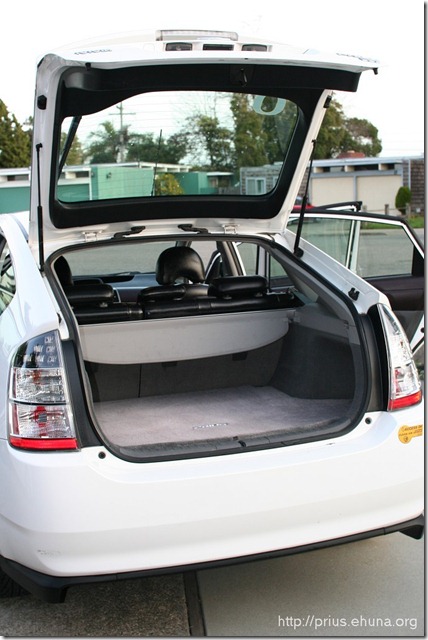 This Prius is a hatchback, so you can also take the back seats down and increase the amount of storage space – it's great for 2x4s from Home Depot! -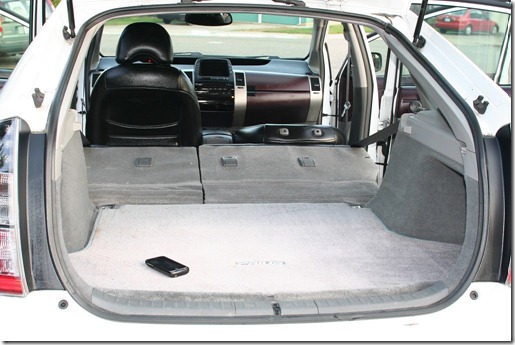 There's a cover in the trunk area -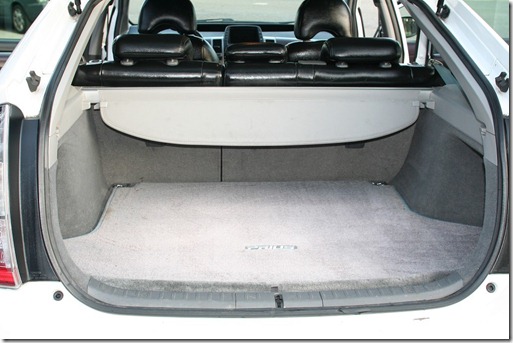 Pull the cover to hide objects and parcels (I placed a sample phone in the sample photo below) -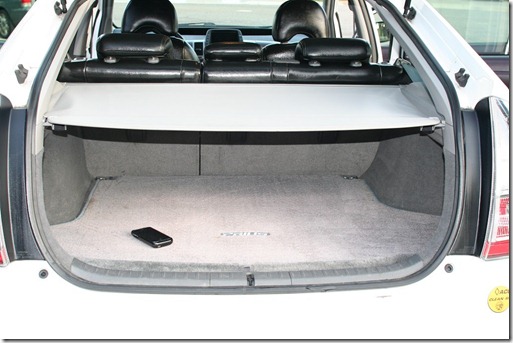 When you close the trunk and the cover is on, no one can see the phone I left there or any other parcel -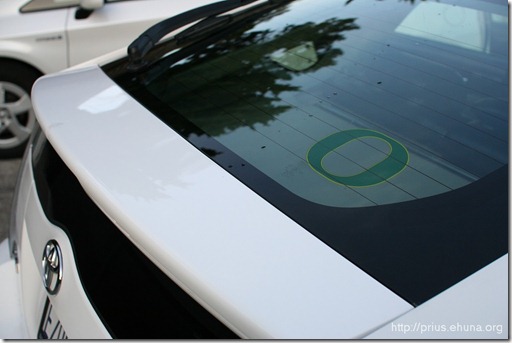 The spare tire is under the trunk area -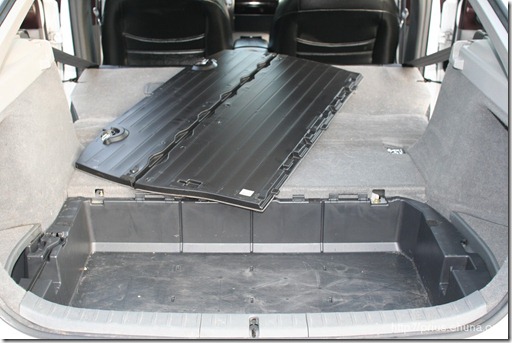 My Toyota dealer offered the option of adding leather to the Prius.  Toyota worked with a third party company that installed this black leather option, which I find awesome – better than the factory leather that is now available -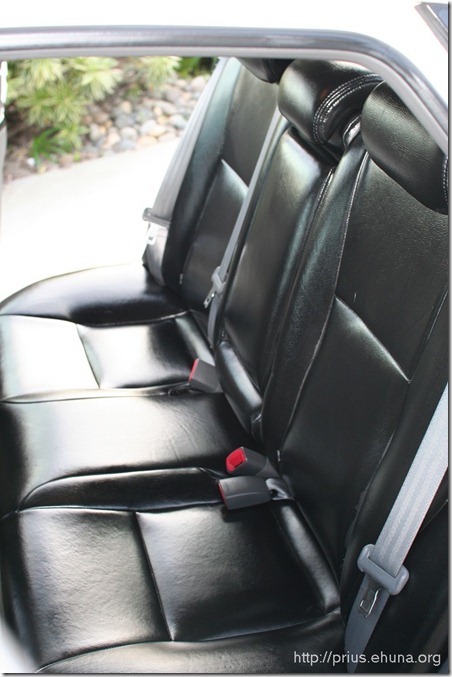 This Prius has a large LCD screen with many features to control and monitor the car – it's a touch screen, like on an iPhone or iPad, so you make choices by directly touching software options on the screen -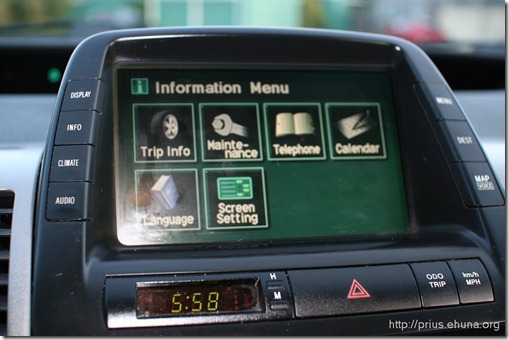 The GPS software is really cool – here's a nice shot of where highways 101 and 92 meet in the Peninsula -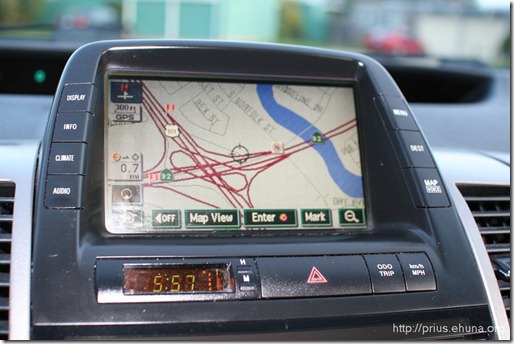 You won't get lost again – enter an address or search for a 'Point of Interest' (POI) and the GPS unit will give you turn by turn directions, with voice indicators on turns -
You can pair your iPhone or any other Bluetooth phone with this Prius.  You can then use the 'hands-free' feature to answer and make calls through the car's speakers and microphone – your phone can stay in your pocket! -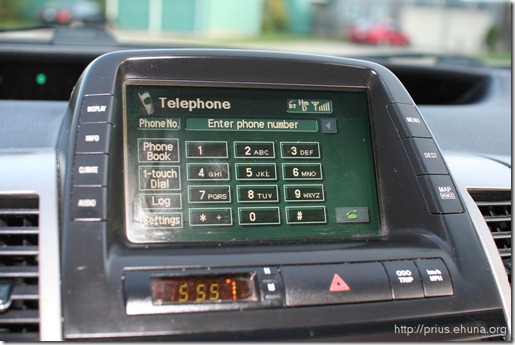 I really like the A/C controls – you can manually control the temperature to your liking; but I really enjoy the 'auto' feature which starts or stops the climate action depending on a temperature I set -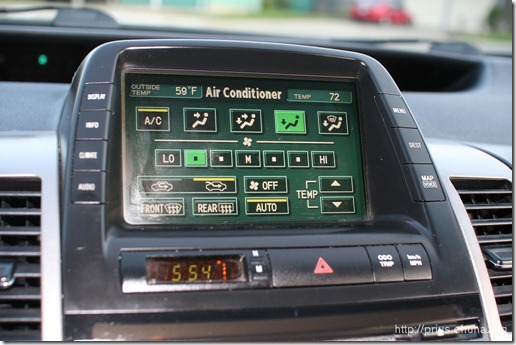 I purchased a XM Satellite radio add-on, which integrates well with the GPS and LCD screen – you have three preset screens with 6 channels in each, and you can always jump to a channel directly.  A separate Sirius/XM satellite radio subscription is required – check out http://www.siriusxm.com/ for more details -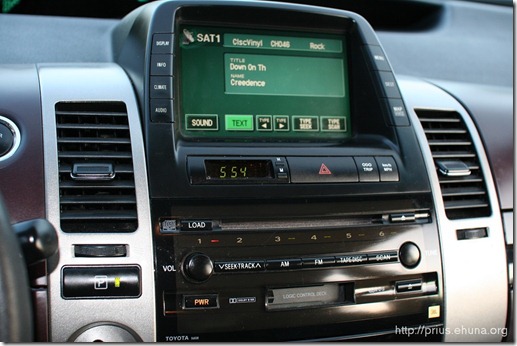 Here's the XM antenna, a small black box that looks like the Apple TV, sits in the back part of the roof -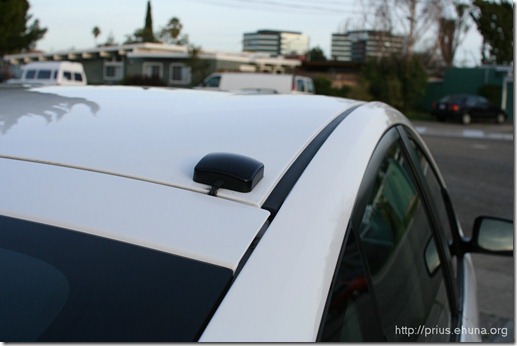 Here's the rearview mirror, which includes the 'HomeLink' transmitter that can open and close most garage doors (the 'HomeLink' buttons are out of focus below) -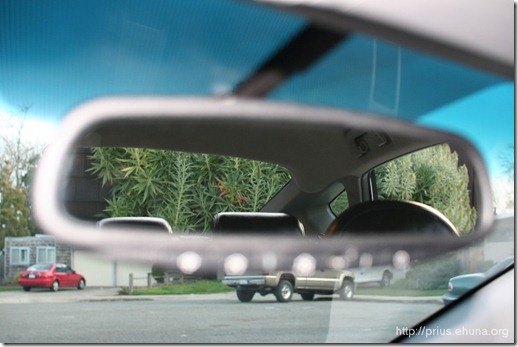 This is the 12V adapter, which you can use to charge your phone or laptop -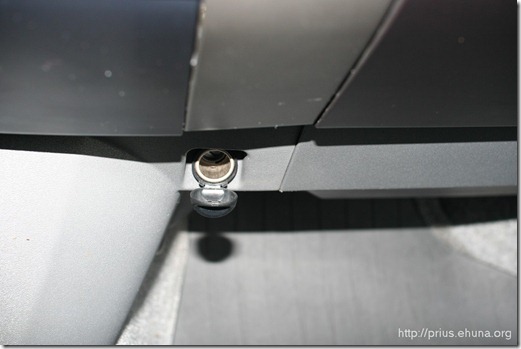 Remember how easy it was to unlock the car?  It's just as easy to lock it: as long as you have the keyfob in your pocket, press the small black button on the door handle and the car is locked and the alarm is armed!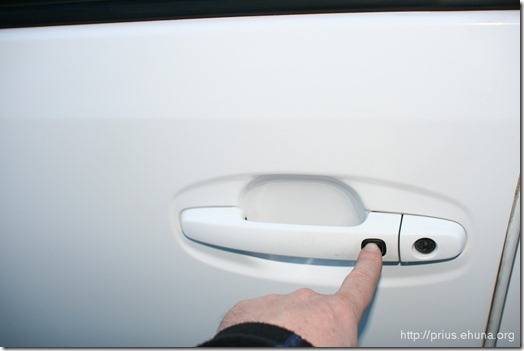 There are locking buttons in the driver and passenger doors and in the back, right above the license plate -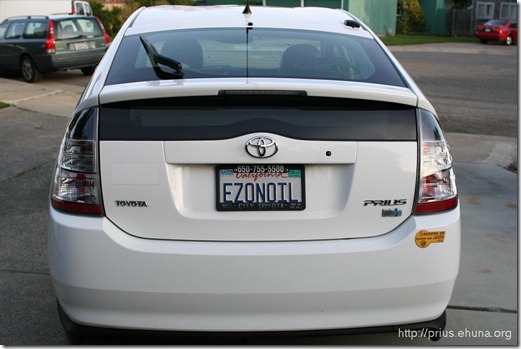 Just like you can unlock the car using the driver and passenger door handles, you can open the trunk by simply placing your hand above the license plate area -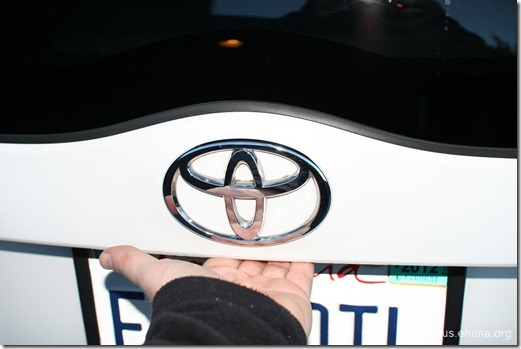 This disarms the alarm and unlocks all doors (it doesn't open the doors automatically as shown below – this is just an example) -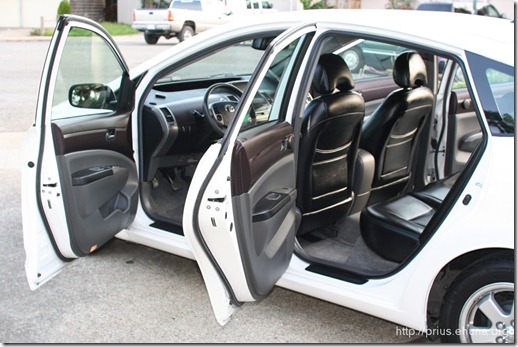 Wow – so many freakin' features!  If you'd like to investigate more, here's a link to the Prius User Manual (2004-2009 model): http://john1701a.com/prius/prius-userguide_iconic.htm
Gas Prices
The Prius is 99% cleaner than most non-hybrid cars, due to its relative very low CO2 emissions.  But its hybrid system not only helps you work towards saving the environment, it also helps you save your money.  This car gets an average of 45 miles per gallon (MPG), a higher average than most cars.
Here's a picture I took yesterday at a Shell gas station at 4th St. and Bryant St. in San Francisco -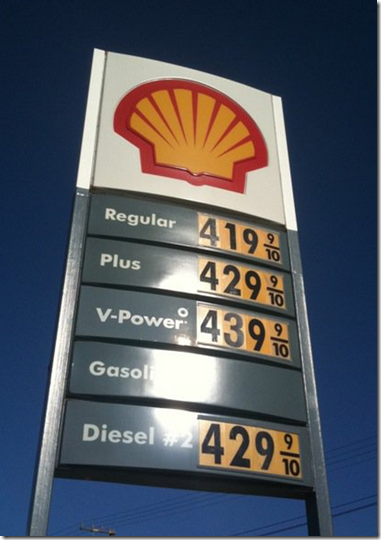 As a quick exercise, let's say you drive 15,000 miles per year.  Here's how much money you'll spend per year depending on the car you drive (at the 'Regular' price above of $4.19 per gallon) -
| | |
| --- | --- |
| Car Model/Make | Total cost per year |
| 2005 BMW X5 (16 MPG) | $3,928.12   (=15,000 / 16 * 4.19) |
| 2005 Volkswagen Jetta (24 MPG) | $2,618.75   (=15,000 / 24 * 4.19) |
| This Prius (45 MPG) | $1,396.00   (=15,000 / 45 * 4.19) |
Drive this Prius instead of a 2005 BMW X5 SUV, and you save over $2,500 on gas per year!  I took the MPG estimate from the 'Fuel Economy' website -
where numbers are provided by the US Department of Energy.  Find your car's MPG using the site above and calculate your savings per year using this formula: (number of miles you drive per year) / (your car's MPG) * (your local cost of one gallon of gas).
Purchasing this car
If you're interested in this car, here's how I came up with the asking price.  I went to the Kelley Blue Book site and used their wizard to enter all of the information on this Prius -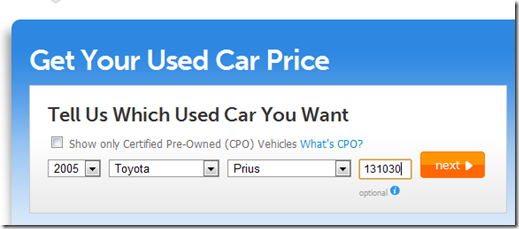 Once I entered all of the options, the KBB site gave me a summary page that matched my Prius exactly -

This summary page included the following estimated car prices -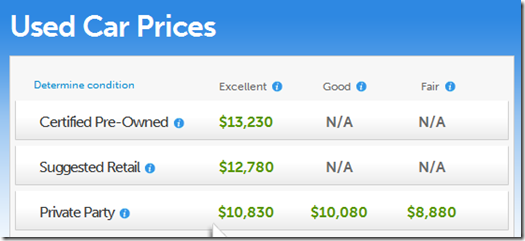 I feel this Prius is in excellent condition, but such estimates are always open to personal opinions. 
To avoid any discussions over the condition of the Prius, I am asking $10,500 for the Prius – between the 'Good' and 'Excellent' private party prices.  I am sure if you take a look at the Prius, you will love it and you'll agree it is in excellent condition.
Email me at s…@ehuna.org or call me at (650) 918-7486 to buy this car – unless I know you or someone I know can vouch for you, we'll probably use www.escrow.com to protect both the buyer's and seller's interests and avoid complications.
Good times!