For a few years I've been using SQL Compare from Red-Gate – an amazing product that allows you to do compare and synchronize SQL Server database schemas – and much more:

For more info see -
http://www.red-gate.com/products/SQL_Compare/index.htm 
Red Gate has announced they now have an early access build of SQL Compare 8 that works with SQL Azure!  If you're interested in trying this out please complete the form at:
Please note that I' do not work for Microsoft or Red Gate Software – I'm just a very happy customer.
Below I have more information on how this support for SQL Azure came about.  Just like Microsoft has the "Windows 7 was my idea!" ads – I'm proud to say "Support for SQL Azure in SQL Compare was my idea!" – and this time it might just be true!
Red-Gate's SQL Compare – now with SQL Azure support!
A few months ago I posted a suggestion to Red-Gate: add support for SQL Azure in the SQL Compare product.  You can read the whole thread here -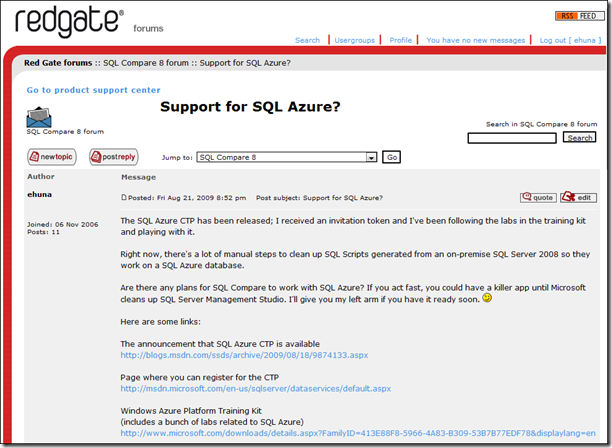 A couple of days ago, David Atkinson, a Product Manager at Red Gate Software had the following announcement:

I quickly asked David if I could download the early access build of SQL Compare that works with SQL Azure.  I tried it out and it works great!
I had some feedback for David so we started emailing back and forth.  At some point I had mentioned that I thought this support for SQL Azure would never come and I called my original suggestion in the forums a "feeble lobbying attempt".  David responded with the following:
On Wed, Jan 27, 2010 at 4:44 PM, David Atkinson
<*********@red-gate.com> wrote:
[…] Hopefully this will convince you that your lobbying attempt was anything but feeble.

Here at Red Gate we note down every user request and make sure that it feeds directly into our product plans.

I can guarantee that without this post to our forum we would not have done the work to produce the Azure-compatible build, so please take credit for this!

Many regards,

David
This is awesome, thank you David!  Not only Red Gate Software produces amazing software but they actually listen to their customers.
I can honestly say "Support for SQL Azure in SQL Compare was my idea!".
Good Times!