Update 10/21: the sofa was sold.

A couple of years ago we bought this 1+2+3 set at Macy's.  It's made in Italy and the quality of the leather is very good.  It's really comfortable and we've been using it without problems in our family/TV room.  It's in really good shape, except for a couple of minor scratches.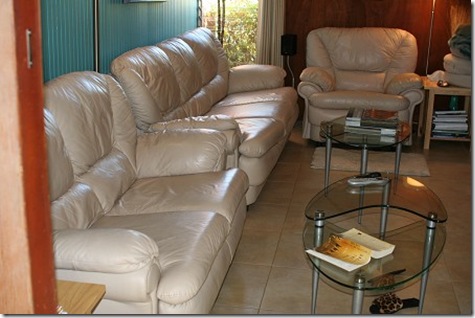 The loveseat, sofa and chair - only $500, what a deal!
Last week my wife decide we needed a new set and we went to Macy's again.  We bought a new one (expensive!) which will be delivered this week.
So now my wife is pressuring me to sell the old set quickly.  For this reason, I'll make it easy: you can have the whole set, the sofa, the loveseat and the chair for only $500 (or best offer).
If you can pick it up and you are interested, contact me through the Craigslist entry:
Hurry, this will go fast!  Below I show more pictures of the sofa, the loveseat and the chair.